Classic Car Auctions
Find classic and antique cars for sale at auction
Enter Today and You Could Win this Awesome 2020 Shelby GT500!
Where:

5020 Chaparral Ct, Boulder, CO 80301, USA

When:

Oct 29, 2019 - Sep 05, 2020

Enter to win this 760hp 2020 Shelby GT500 from the Shelby American Collection You've got a chance to win a rare 2020 760 hp Shelby GT500 – a true collector's car! This Shelby GT500, in stunning Ford Performance Blue, is loaded with all the GT500 performance features including the Carbon Fiber Tra...
More Info ›
Bullseye Auction & Appraisal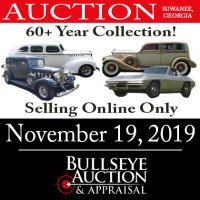 Where:

Main St, Suwanee, GA 30024, USA

When:

Oct 30, 2019 - Nov 19, 2019

Cunningham Auctions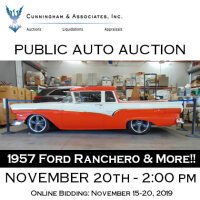 Where:

6520 N 27th Ave, Phoenix, AZ 85017, USA

When:

Nov 15, 2019 - Nov 20, 2019
Live bidding: Opens Nov. 20th (2PM) - Arizona time) Inspection: Tuesday, Nov. 19th (9AM-4PM) and Wednesday, Nov. 20th (9AM until the auction begins to close with LIVE bidding at 2PM - Arizona time)
PUBLIC AUTO AUCTION - Featuring 1957 Ford Ranchero
More Info ›