‹ Go back
1966-77 Ford Bronco Collectors Guide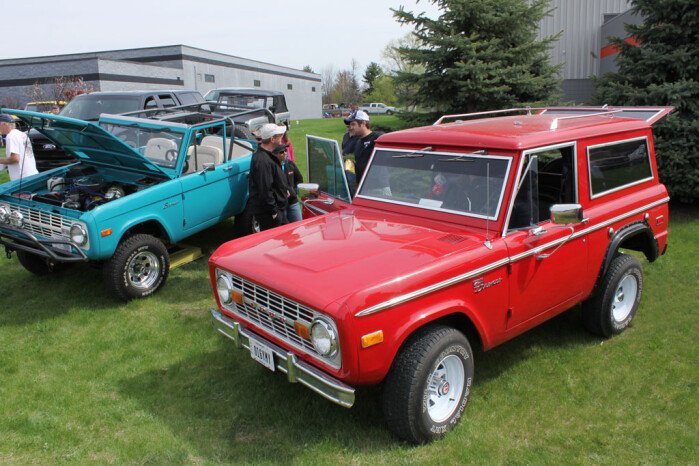 If you haven't noticed lately, vintage 4x4s are heating up the collector market and the first-generation Ford Bronco is leading the way. Conceived as a competitor for elemental off-roaders such as Jeep and International-Harvester's Scout, the Bronco's dimensions were somewhat in between them. Its 92-inch wheelbase and 151.5-inch overall length were considerably longer than the Jeep CJ-5's 83-inch wheelbase and 139-inch length, but shy of the Scout's 100-inch wheelbase and 155-inch length.

Much like the groundbreaking Mustang, the original 1966 Bronco (introduced in August 1965) represented a brave new world for the Blue Oval, as Ford had never developed a dedicated 4x4 sport-utility vehicle. The frame, chassis and body would be created from scratch, although engineers logically adapted the front and rear axles from the company's four-wheel-drive F-Series pickups and used them with a Bronco-specific Dana 20 transfer case.

Its 105-hp, 170-cubic-inch straight-six engine was a "pick-up," too – from the Falcon, although the carburetor was fitted with a unique float to prevent fuel starvation on steep, off-road grades. The fuel pump was heavy-duty, too, for the same reason. A 289 V-8 would join the lineup later in the '66 model year and would be supplanted by the 302 engine in 1969.  

A three-speed, column-shifted manual transmission was the only gearbox offered at first and an automatic transmission wouldn't arrive on the option list until 1973. All models through all of the first-gen production years used a Ford 9-inch rear axle. A Dana 30 front axle was used through early 1971 and was replaced by the stronger Dana 44.

The transfer case drove the front and rear axles through constant-velocity, double-cardan universal joints. The design enabled a higher mounting position and greater ground clearance. A coil-spring front suspension and leaf-spring rear suspension were used. The front "mono-beam" axle was located by a pair of forged radius rods and a track bar. Out back forward-angled shocks were used on early models and replaced by rear-canted shocks. The short wheelbase and unique chassis/suspension features contributed to a super-short turning radius of less than 35 feet.

Three body styles were offered initially: the boxy wagon, a pickup-style half-cab and a Jeep-like roadster. The roadster was the lowest-price models, with a base price of only $2,404 in 1966, but wasn't popular and was axed from the lineup after 1968. All models were designed for work and the roster of factory options included items such as free-wheeling hubs, a limited-slip differential, heavy-duty cooling package and more, while dealers touted available post-hole diggers, power booms and power sprayers. The Bronco could even be upfitted as a small fire truck or tow truck.

With sales of 23,776 in its first year, the Bronco was off to a promising start. But with its Spartan interior – no carpeting, sound-deadening material or even a standard heater – it was definitely an SUV that emphasized utility over sport.

Here's a quick look at the updates and sales figures for each model year:

1966 – Introduced with six-cylinder only at launch; 23,776 sold in extended launch year.

1967 – Sport package introduced; dual master cylinder with split brake system and self-adjusting brakes introduced; 11.5-gallon auxiliary fuel tank offered. Sales: 14,230.

1968 – Locking front hubs offered; revised bumpers and side-marker reflectors distinguish from previous models. Last year for the roadster body. Sales: 16,629.

1969 – 302 engine replaces 289 V-8; electric wipers replace vacuum-operated units (midway into the model year); steering stabilizer is made standard. Sales: 20,956.

1970 – Evaporative emissions controls added and standard/auxiliary fuel tank capacities are reduced. Sport Bronco upgraded to a distinct model. Sales: 18,450.

1971 – Dana 44 front axle replaces weaker Dana 30; new "sport" outside mirror; Bill Stroppe-designed Baja Bronco introduced, featuring fender flares, special paint scheme and more. Sales: 19,784.

1972 – Last year for the half-cab body; "302" emblems removed from front fenders; fuel-tank capacities reduced again; Ranger model introduced, offering comfort and convenience items such as deluxe carpeting and more. Sales: 21,115.

1973 – C-4 automatic transmission and power steering offered as options; "J"-handle transfer case replace "T" handle case at midyear, with new, 2.34-ratio low gear. Sales: 21,894.

1974 – California models revised with specific emissions equipment; 170-cid six replaced with 200-cid six-cylinder; J-handle transfer case revised to improve shift quality. Sales: 25,824.

1975 – Powertrains converted to unleaded-fuel capability and include catalytic converter. Sales: 13,125.

1976 – New power-assisted front disc brakes and larger rear drum brakes; revised steering box with shorter 3.8 turns lock-to-lock; poorly received "Y"-type steering linkage introduced; new front sway bar. Sales: 15,256.

1977 – New, heavy-duty 9-inch rear axle housing; gas doors replaced external caps; plastic 14.4-gallon main fuel tank and 8-gallon auxiliary tank. Sales: 14,546.

The first-generation Bronco matched its contemporaries when introduced, but by the dawn of the 1970s it was outclassed by the second-generation Scout II and Chevrolet's upstart Blazer. Ford wouldn't counter those larger, better-equipped off-roaders until 1978, but by then the Blazer had a commanding sales lead.

Almost five decades after it debuted, the first-generation Bronco has climbed its way from a cult favorite of hardcore off-roaders to a mainstream collector vehicle.

 
Buying tips

Not surprisingly for a vehicle originally developed as a workhorse, a great many first-generation Broncos were put out to pasture years ago. Few remain in original condition, with performance and/or vocational modifications common finds in the market. It's a parallel phenomenon with vintage muscle cars, which we mostly modified soon after purchase. And just like the muscle cars, the highest values for vintage Broncos go to those in the most original condition.

Buyers seeking a classic Bronco for serious off-road driving should focus their energy on already modified examples. They are generally less expensive than stock-condition vehicles in comparable condition and, depending on the upgrades, a modified Bronco may ultimately save money because much of the work has already been done.

Many otherwise stock Broncos often have upsized off-road tires and it is all too common for them to have been fitted with fender flares – especially rear-fender flares that necessitated cutting away part of the fenders. Without question "un-cut" Broncos are more valuable today because of their relative scarcity. A flared Bronco will be cheaper to buy, but won't bring as much on the resale, either.

Project and driver-condition Broncos purchased with the goal of an original-type restoration can be problematic if the buyer doesn't perform a thorough examination for rust of the inner and outer body panels. Even in historically dry climates, early Broncos tended to rust with a vengeance and the consequent repairs can be time-consuming and expensive – and even minimal rust showing on the outside may mask serious rot underneath. The thin steel grilles are notorious for dings and dents, as well as holes cut to accommodate snow plow mechanisms or other power take-off accessories. Used grilles are getting tougher to find in salvageable condition, so finding a candidate vehicle with a good grille should be a priority. The same goes for the tailgate.

Mechanically, vintage Broncos are pretty easy to handle. They use common Ford powertrain parts and the Dana axles are pretty standard stuff, too. There are so few amenities on these vehicles that there's not much to worry about, such as sourcing power window motors, etc. The Bronco simply didn't have such luxuries.


What to pay

The prices are climbing everyday for even rusty examples in need of serious restoration. That's especially true of any first-generation Bronco wearing uncut sheet metal. Project vehicles that may or may not be roadworthy can command up to $5,000 or more, while driver-condition Broncos with stock fenders are pushing into the mid- and high-teens -- $12,000-$16,000. Restored, show-condition trucks are commanding more than $20,000. A good-driving, slightly modified Bronco with typical fender flares and 33-inch-tall tires, along with a few other mods and perhaps a couple of minor rust spots, will typically bring about $7,500.

Of course, the prices cite here should be viewed as a guide and not gospel. The market is evolving daily, but one thing is certain: Prices for vintage Broncos are going up, not down.

 

Where to find parts

Jeff's Bronco Graveyard, Brighton, Mich.: www.broncograveyard.com

James Duff Enterprises, Knoxville, Tenn.: www.jamesduff.com

Tom's Bronco Parts, Medford, Ore.: www.tomsbroncoparts.com

Superior Bronco Parts, Loveland, Colo.: www.superiorbroncoparts.com

National Parts Depot, Ocala, Fla.: www.npdlink.com

 

 


First-gen Broncos were boxy and basic, with styling the remained essentially unchanged from 1966-77. This '77 model is identifiable by integrated gas doors on the driver's side. All previous model years had exposed gas caps.

 


The least-expensive Bronco was the Jeep-like roadster model, but customers largely ignored it. It lasted only three model years and was built in low quantities, making originals rare and desirable today.

 


Bronco's full-frame chassis was unique, but borrowed axles from Ford pickups. The Dana 20 transfer case was specific to the Bronco. The wheelbase was 92 inches – 9 inches longer than the Jeep CJ-5.

 


The Bronco's front suspension consisted of coil springs and a "mono-beam" front axle located by a pair of tough, forged-steel radius rods and a track bar.

 


The half-cab body style turned the Bronco into a very small pickup, which was adapted by fire departments and even towing companies. It lasted through the 1972 model year, leaving only the traditional wagon body through the end of the first generation.

 


Renowned manufacturer Dana supplied the front axles throughout the Bronco's first generation. The Dana 30 – rated at 2,500 lbs. – was used through the early part of the 1971 model year and was replaced by the tougher Dana 44.

 


This lifted Bronco with fender flares – including cut-out rear fenders – is typical of the mildly modified examples that are most common on the market. Rust-free examples in this condition can bring $7,500-$10,000, but collectors increasingly prefer original-spec Broncos.

 


Dealer-added and aftermarket accessories are common finds on vintage Broncos, including winches, PTO units and plow provisions. They don't necessarily detract from the truck's value, but alterations such as the cut-out grille section seen here can dissuade some buyers.

 


The Bronco launched with the Falcon's 170-cid inline-six, but the 289 was offered midway through the inaugural model year. Larger engines, including the 200-cid inline-six and 302 V-8 eventually made their way into the Bronco's engine compartment.

 


The aftermarket wasted no time in adapting its products for the diminutive Bronco, including a number of slide-in campers that could be installed after the truck's detachable roof was removed.

 


Most Broncos on the market have been modified in one way or another. Buyers seeking a serious off-roader will be money ahead with an already modified example, as the stock-condition trucks are more expensive to purchase before the first suspension mod is made.

 


Although not quite in show-winning condition, this original-appearing half-cab Bronco was spotted recently with a $14,000 asking price. Assuming the seller was at least a little flexible on the price, it seemed market-correct these days.

 

In contrast to the $14,000 half cab was this original-looking roadster in need of a restoration. The body style's rarity likely influenced the seller's $18,500 asking price, but it seems a little high for vehicle that will need work. Then again, in a couple of years, it may seem like a bargain.

 


Rust is the bane of a Bronco's existence. Buyers should not assume trucks from historically dry climates, such as the Southwest, will be exempt from the problem. Every truck should be thoroughly inspected, no matter how minimal the problem appears on the outside.

 


The rocker panels are notorious for rust, carrying the rot into the floor pans. The cargo bed floor is also prone to rust, particularly where it meets the "wall" between the passenger compartment on half-cabs.

 


The inner door frames must also be carefully inspected for rust or signs of rust repair – particularly around the hinges.

 


If rust has consumed the boxy firewall and inner-fender sheet metal components, the repair cost may be cost-prohibitive for a project vehicle. Again, the buyer should carefully inspect every nook and cranny of the Bronco's body structure.

 


Original, un-cut rear fenders are preferred by collectors, but patch panels can restore the appearance of a modified Bronco. These original cut-outs were found at a swap meet and would make an excellent, original-sheet-metal patch for a resto project.

 


In its 12 years of production, starting in 1966, the first-gen Bronco sold only about 225,600 examples. In industry terms, that's a drop in the bucket – Ford sold more than 607,500 Mustangs in 1966 alone! Rust and the ravages of working life claimed the majority of these pioneering SUVs, helping make the remaining ones all the more interesting and valuable.

Published Dec 7th, 2015
More Classic Car News & Article Categories:
Related Articles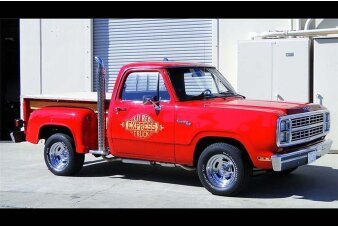 The Dodge Li'l Red Express set a standard on how to make a great performance truck. All Dodge Li'l Red Express trucks came from the factory painted in Bright Canyon Red in 1978 and Medium Canyon Red in 1979. Every Li'l Red Express was a regular cab Adventurer with a stepside bed.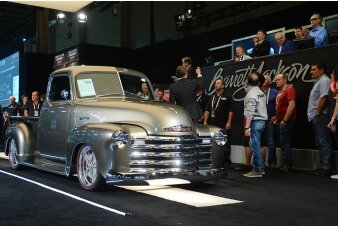 Classic vintage Chevrolet pickup trucks are receiving growing interest among car enthusiasts. The most collectible muscle cars are numbers-matching survivors; the most sought-after vintage trucks are full custom builds.
Related Classic Trucks
×
1966-77 Ford Bronco Collectors Guide